5 Things You Should Know Before You Go House-Hunting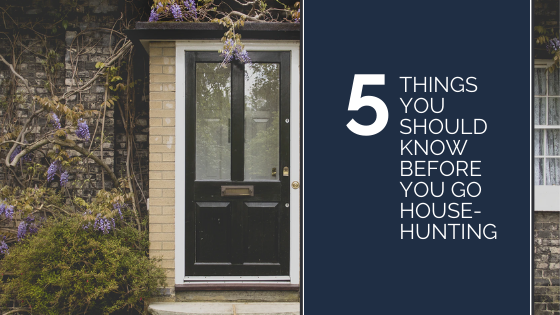 House hunting is one of the most exciting parts of buying a house. This is especially true for first-time homebuyers. Perhaps you have spent years saving up for your downpayment and building up your financial profile.
Unfortunately, the homebuying process can be a long and arduous process. It can be stressful and overwhelming if you don't stay focused and organized.
In this blog post, we listed down some tips to make the house hunting process easier and more effective. Use these tips to help you find your dream home.
Know where you want to live
Almost everything in the house can be changed and upgraded later on, but the location isn't one of them.
Before you start looking at houses, you should first determine where you want to live. Consider what type of neighborhood you want, the length of your commute, the which school your children will attend etc.
Research before viewing
We know that you're eager to go out there and find your future home, but you shouldn't just dive into the house hunting process. The last thing you want is to look at dozens of houses over the weekend, only to come home disappointed.
Start by shopping for homes online. Browse through the online listings and create a list of houses that have features you want and fits your budget. The goal here is to reduce the number of homes you have to visit. Also, plan your route so you can visit a few houses within one drive around.
Identify your housing needs
You need to decide what features you want and need in a house. Make a list of these features, and make sure that you bring this list with you.
It can be easy to get swept away with features such as hardwood floors, granite countertops, and stainless steel appliances. This is actually fine if it's within your budget. But if not, then you need to let go. There is no point in buying a gorgeous house with top-of-the-line appliances if you can't afford it.
Clear your schedule
Some people fail to realize this, but house hunting can be time consuming. So if you are planning to look at a few houses, make sure that you free up at least a few hours of your day. Otherwise, you may find yourself rushing.
A house is one of the biggest purchases you will ever make. If you find a house that you like, it is best to linger for a while and look closely at every aspect of the house.
Take notes
It will be impossible to remember every aspect of the houses you've visited. As such, we recommend taking notes and taking photos of each house you look at. This way, it will be easier for you to compare the properties later on and make a more informed decision.